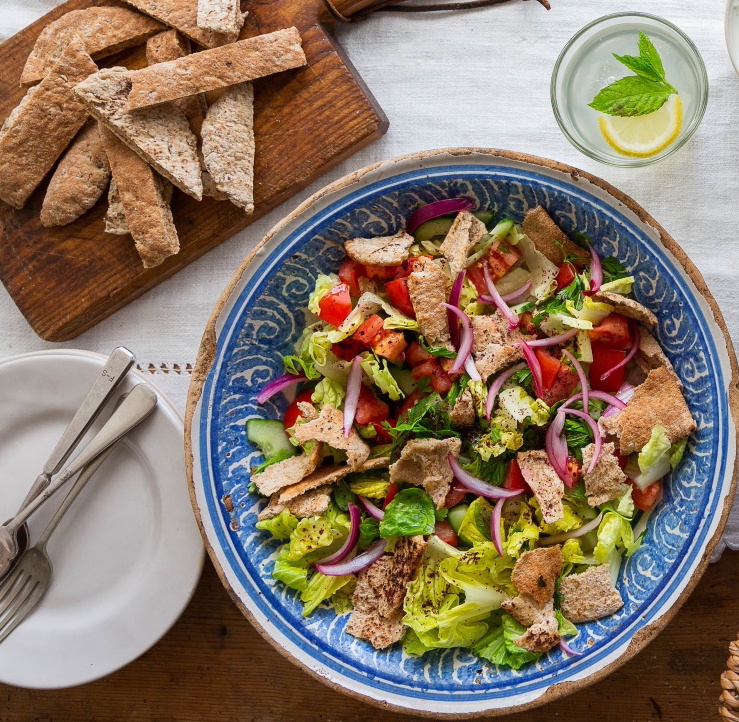 Traditional Fattoush Recipe
FATTOUSH 
This classic Lebanese salad makes the perfect starter, side dish or can be enjoyed on its own as a healthy vegan lunch option. The tangy sumac adds depth to this salad and the added toasted Pitta bread creates an additional crunch to each bite.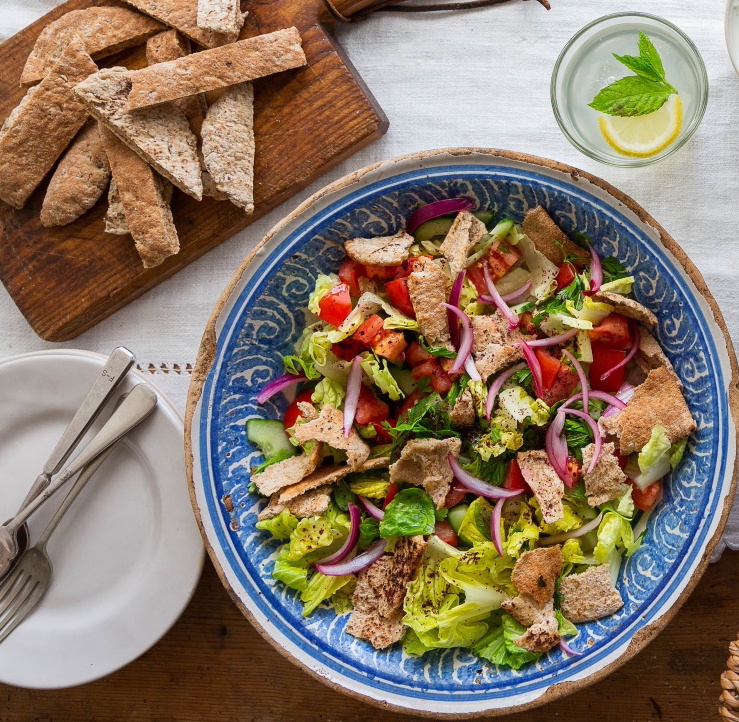 Serves 4
Preparation 20 Minutes
Ingredients:
1 small head romaine lettuce
½ green pepper
½ red pepper
½ cucumber
240g radish
4 spring onions
2 vine tomatoes
250g fresh mint (small bunch)
250g flat leave parsley (small bunch)
Pinch of salt
1 tsp sumac
1 garlic clove, crushed
½ pomegranate
2 pieces of Pitta or Khobez, toasted
For the dressing: 
4 tbsp extra virgin olive oil
1 lemon
2 tbsp malt vinegar
Method:
Chop the romaine lettuce, green and red peppers, cucumber, radish, spring onions, tomatoes, mint, parsley and place in your salad bowl. Add the pomegranate seeds to your salad bowl and season it with salt and sumac.
Chop the Pitta bread or Khobez up into squares about 1cm in size; toast under the grill until golden and crispy. Once toasted, set to the side to use when serving.
For the dressing, combine the olive oil, malt vinegar, lemon juice and crushed garlic to the vegetables in the bowl and mix well. Scatter your toasted bread on top of the salad and serve.
Top Tip:
The Dina Foods Paninette® flatbread range would be perfect toasted and scattered on top of the salad.