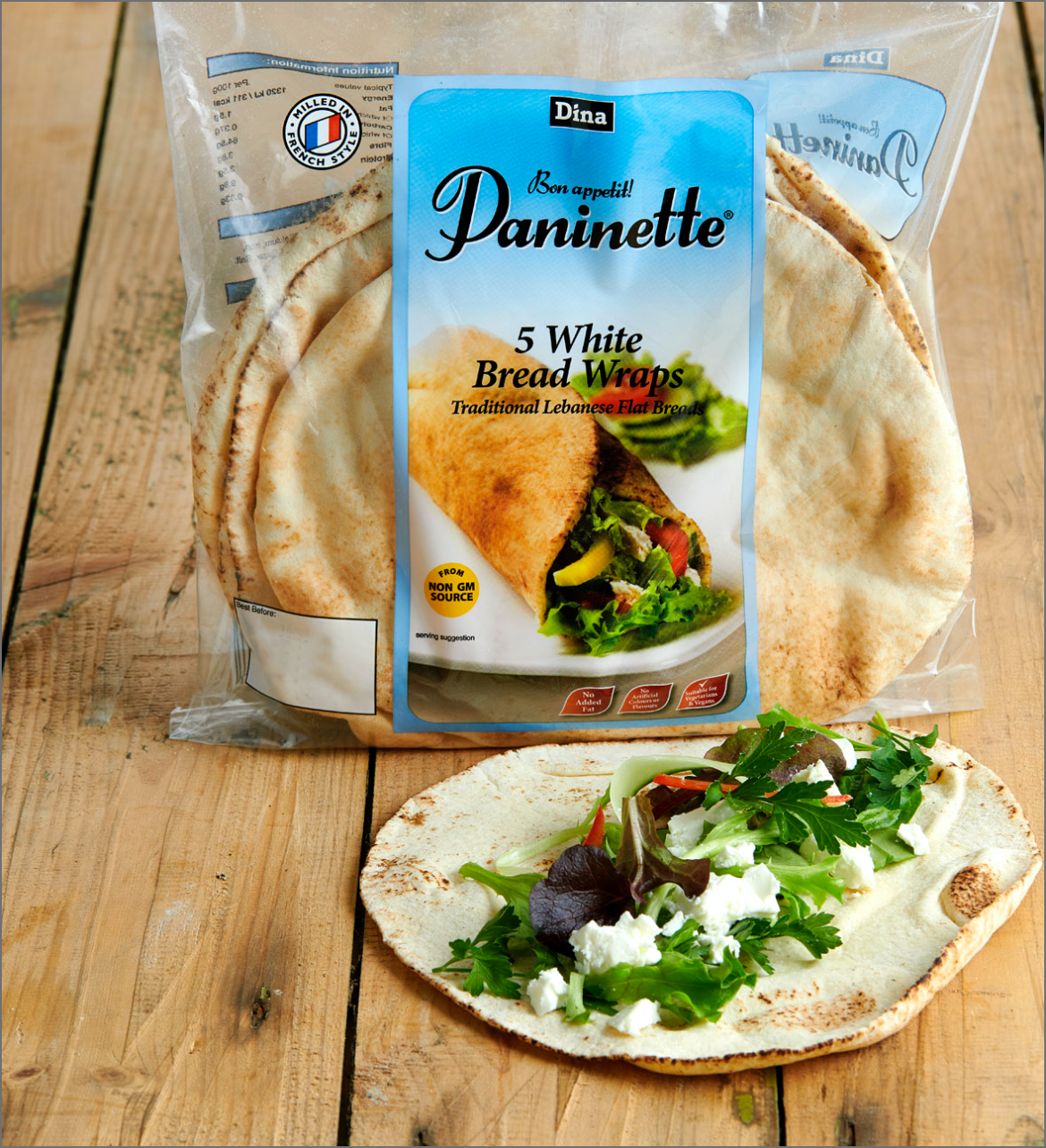 For the Chicken Kebabs:
400g can chickpeas, drained and rinsed
3 Dina Paninette® (any variety or 2 large white Dina Paninette®)
Vegetable oil, for shallow frying
500g Greek style yogurt
2 tbsp tahini
2 tbsp lemon juice
2 garlic cloves, crushed
1/4 tsp salt, plus extra for seasoning
30g butter or ghee
25g pine nuts
1 tbsp freshly chopped flat leaf parsley
1-2 tbsp pomegranate seeds
Ready In: 35 mins |  Servings: 4-6 as a snack or starter
This classic Lebanese dish of crispy fried flatbread pieces topped with chickpeas, garlic and tahini flavoured yogurt and hot buttery cooked pine nuts looks impressive and tastes amazing. Serve it for breakfast, as a snack or starter.
Place the chickpeas in a small pan with 300ml cold water. Bring to the boil, then simmer for 20-25 mins until nearly all the liquid has been absorbed.
Meanwhile, using kitchen scissors, cut each Paninette® into small squares. Shallow fry the squares in hot oil for 1-2 mins until crisp and golden- you'll need to do this in 2 batches. Remove with a slotted spoon and drain on kitchen paper.
Mix the yogurt, tahini, lemon juice, garlic and 1/4 tsp salt in a bowl.
Spread the fried flat bread pieces on a large platter. Top with the chick peas and season to taste with salt. Spoon over the yogurt mixture.
Heat the butter or ghee in a small frying pan until melted. Add the pine nuts and fry in the hot butter, stirring, until the nuts are golden and the butter is foaming. Quickly spoon the hot nuts and butter over the yogurt (it should crack and sizzle!). Garnish with parsley and pomegranate seeds and serve immediately.
Fry the flat bread pieces and mix the garlic yogurt 1-2 hours in advance to save time, if liked, but only cook the chickpeas and assemble the dish just before you plan to serve it, otherwise the flat bread pieces will go soggy.
If preferred, toss the flat bread pieces in a little olive oil and spread on a baking tray. Bake in a hot oven for 5-10 mins until crisp.